Participate in COVID Survey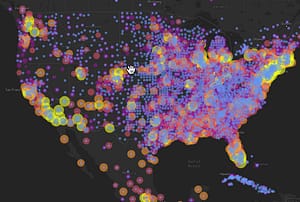 For the past few weeks, I've participated in an online COVID research study sponsored by Boston Children's Hospital and Harvard Medical School. The survey asks the same questions every day (e.g., How are you feeling? Have you received a flu vaccine? etc.) It then lets you search their database for COVID cases and tests in zip code 98402. More than 100 people in zip code 98402 participate, and I encourage everyone to add to their database. Your data is anonymized to protect your privacy. While those data points are interesting, a fascinating part of this website is a map showing the new cases (blue dots) and total cases (various colors depending on the number).

As you can see in the screenshots, most of the new cases in the U.S.A.are east of the Rocky Mountains and so far Seattle and Tacoma are using masks, distancing, and a phased-in re-opening to control the spread of COVID-19. This map will show the impact of the BLM protests in about a week or two. At the lower left of each map is a green "Play" button that displays an animated timeline showing the pandemic's rapid growth. If you grab the white dot and slide it horizontally across the calendar, you'll see the number of COVID-19 cases at the date of the dot's position, which displays on the far lower right corner of the screen. This timeline visualization shows that the pandemic is still active in the U.S.A. Unfortunately, the first wave is not over.